Some quick suggestions for my sister and beyond, after watching copious amounts of programming these last few months of winter at the Jersey shore.
Netflix kinda stinks anymore frankly. I don't like the new interface and the programming seems to be going downhill over. I switched over to Hulu for a month (where I fell into the guilty pleasure that was
Nashville
) and kinda liked it better.
1. Glen Campbell - I'll Be Me
A touching and inspiring doc about beloved musician Glen Campbell on his farewell tour after his Alzheimer's diagnosis. You can almost feel his spirit watching this well-made flick. And the deep adoration the audience feels for him is so palpable and wonderful to witness.
Great interview with director here.
(James Keach is one sexy old dude, just saying.)
2. The Nightmare
There are some seriously scary scenes in this,
yikes!
Director Rodney Ascher explores the topic of night paralysis in this semi-fictional manner that seems more like a horror movie and less of a documentary. Get your blankie for this one.
3. Bernie
Another flick that blurs the lines between documentary and narrative, Jack Black (who surprisingly delivers) stars in this black comedy directed by Richard Linklater and co-starring Shirley MacLaine and an annoying
Matthew McConaughey
.
Black plays a beloved funeral director in small town Carthage, TX. He's responsible for a crime that the town folk refuse to believe he committed (based on a true story). The National Board of Review included
Bernie
in their Top 10 Independent Films. Sweet and distinctive piece of work.
4. Peep Show
A British version of
Trailer Park Boys
meets
The Odd Couple
? This highly popular UK series is occasionally crass, purposefully awkward and over-the-top sophomoric, which makes it one of my favorite picks on the list!
The leads are comically superb but the real strength is in their supporting cast who are off-the-hook funny.
Love this show.
5. The Wrecking Crew
A must-see for all music lovers. Or anybody who has heard of music.
The Wrecking Crew
is a doc based on a team of the tightest studio musicians who were pretty much behind hundreds of the most successful recordings of the 60's and 70's (The Beach Boys,
Pet Sounds
for example). It's fascinating to discover how many bands didn't really play their own music but hired these guys to do the heavy lifting.
6. Hush
If you're looking for an old-fashioned, solid-enough home invasion thriller to distract and scare you one night,
Hush
keeps you watching until the bitter end.
A very unique casting choice for the bad guy (John Gallagher Jr.) who definitely plays against type. He's kinda cute, likable and dare I say a little funny as the deranged killer, which adds an extra level of disturbing. * I think I love him. *
7. The Hunting Ground
"A searing look at the failure of American universities to grapple successfully with campus rape."
Everybody should stop what they're doing and watch this. Seriously. But be prepared to be revolted.
The takeaway: it is only the
victims
of these crimes that have made any legal or social difference in this country in the last decade; the universities do practically nothing and only care about covering their asses and those of their precious athletes.
8. Fantastic Lies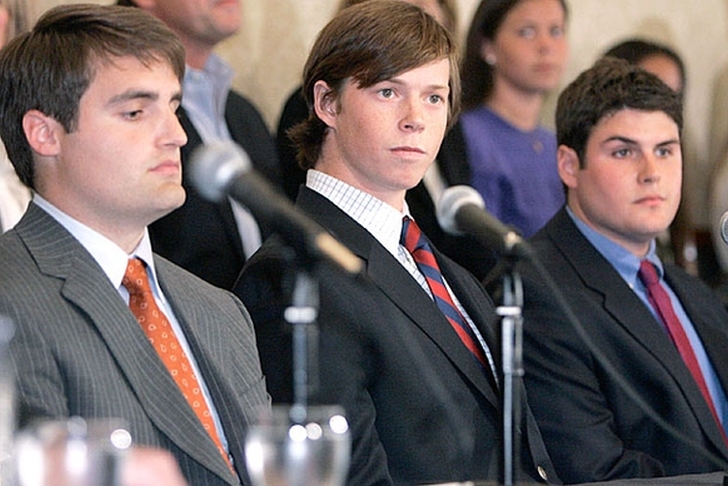 The complete flip-side of
The Hunting Ground
, this ESPN's acclaimed 30 for 30 documentary series profiles the Duke lacrosse case and a horrible, media-driven rush to judgment on a rape case on their campus.
9. The Returned (US and French version)
Okay, okay...the French one was better. But the US version holds its own and you don't have to read subtitles or wish you smoked cigarettes again (the French sure make smoking look so good).
What would you do if a loved one who died reappeared suddenly? That's the question at hand in this existential supernatural thriller.
10. Happy Valley
This show rocks. Easily
one of my faves on this list,
Happy Valley
is a taut British crime drama television series starring Sarah Lancashire. Refreshing to see such a powerful female lead in a crime drama. She is simply the bomb in this and I would not mess with her if she arrested me.
The trailer above offers a perfect summary of the show.
11. Guidance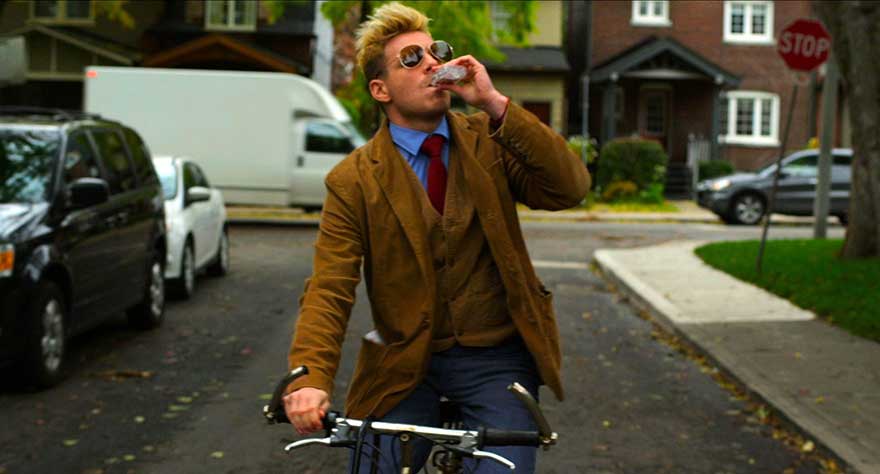 A modest and most pleasurable Canadian dark comedy about a guidance counselor who doles out non-traditional guidance (to say the least) to his students. Nice and easy watch with friend.
12. Prescription Thugs
Filmmaker (and pill taker) examines the pharmaceutical industry and prescription-drug addiction in America. Not that you didn't know it was bad...but it's way worse than you think. The numbers are
staggering
. The filmmaker's approach to this topic is admirable and down-to-earth, considering the vastness and extremity of the topic.
13. Breathe
A typically sullen French film that ends bleakly. (Wait, you're supposed to like this movie, right?) I do...the dynamics between these two friends is compelling and dangerously close.
14. The Riches
Just started this series and I must say, it's pretty impressive. (Though who would have thought to pair Eddie Izzard with Minnie Driver? I did cringe a little during their love scene, I confess.)
The Riches follows a traveling family of con artists. Called "the most scathing take on class relations anywhere on TV." - New York magazine. Eh, not sure about that but…compelling characters and story line.
15. The Dark Matter of Love
A naive and blindingly positive family adopt 3 children from a Russian orphanage, but the children aren't assimilating as they'd hoped. Powerful doc on the psychological aspects of growing up without parental love...and how to manage when you finally get it.
LAST MINUTE ADDITION!!!
I Hate Christian Laettner (ESPN's 30 for 30 series)
Oh boy, what a fascinating case study on an incredibly gifted but highly unlikable college athlete who seems to thrive off of the negative feelings he generates. Narrated by Rob Lowe.
*****************************************
You can pass on:
Keith Richards, Under the Influence
A musical doc snooze fest. No one needs to hear Keith Richards sing that many times in 90 minutes.
The Unbreakable Kimmy Schmidt
Yes, cleverly written and some funny moments but Season 2 seems too forced and self-conscious. (Enough of Titus and his damn show tunes already!
We get it, he can sing.
) Though Jane Krakowski is so fun to watch, I might stick with it a little longer.
Welcome to Me
I so wanted to like this disturbing comedy about a mentally ill woman (played extra creepy by Kristin Wiig) who wins the lottery and makes her own TV show where she can openly explore every painful aspect of her life. But the story line is disjointed and too serious to be funny at times. A confusing tone.